Everything, Everything by Nicola Yoon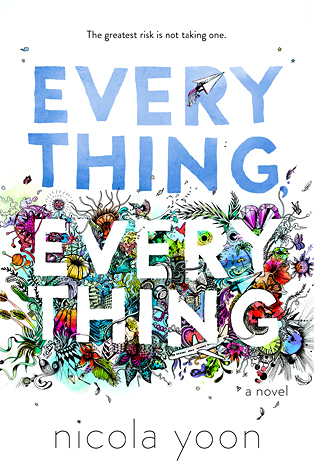 Publication date: September 1st 2015
Publisher: Delacorte Books for Young Readers
Number of pages: 320
Genre: YA Contemporary
Source: Received in exchange for review. This has not influenced the content of my review.
Goodreads synopsis:
This innovative, heartfelt debut novel tells the story of a girl who's literally allergic to the outside world. When a new family moves in next door, she begins a complicated romance that challenges everything she's ever known. The narrative unfolds via vignettes, diary entries, texts, charts, lists, illustrations, and more.
My disease is as rare as it is famous. Basically, I'm allergic to the world. I don't leave my house, have not left my house in seventeen years. The only people I ever see are my mom and my nurse, Carla.
But then one day, a moving truck arrives next door. I look out my window, and I see him. He's tall, lean and wearing all black—black T-shirt, black jeans, black sneakers, and a black knit cap that covers his hair completely. He catches me looking and stares at me. I stare right back. His name is Olly.
Maybe we can't predict the future, but we can predict some things. For example, I am certainly going to fall in love with Olly. It's almost certainly going to be a disaster.
Review:
Rare diseases, first love and a cute guy next door…what could go wrong, right?
Well naïve little reader, a lot. And unfortunately in my opinion, that didn't just apply to the storyline but the actual book as well.
The good and bad per point I want to talk about seems to evenly have their ups and downs. For example, the idea of having such a rare disease of being allergic to everything was really cool. In fact, I'd say it was the guiding reason as to why I was so immensely so excited about reading this book.
But at the same time, I actually blame that for why the story was so slow. The author didn't really have all that much to work with. The story kind of dragged on a big because nothing really happened. I mean – the girl was stuck inside the same building all day and night. In that sense I don't really blame the author at all.
I thought it was a good way to deal with the messages that the book was trying to get across. And they were excellent messages for sure. Just again, I think they could have been handled better.
Why? Exhibit A: The plot twist. Really? That was predictable. Although the way that the main character got to this point was questionable at best. A lot of the decisions made seemed kind of selfish and naïve. Yet, she had reason to be so.
The other thing was that I was unsure as to how it was actually possible for a particular event to unfold. Maybe things are totally different in Australia but I find it difficult to believe that it was possible
All in all, I really liked this book. I did have my issues with it but I am super excited to read more by this author.
3.5/5 comets
Looks like the start of an apocalypse! Nearly there. 
Add Everything, Everything to Goodreads
Goodreads author bio:
Nicola Yoon grew up in Jamaica (the island) and Brooklyn (part of Long Island). She currently resides in Los Angeles, CA with her husband and daughter, both of whom she loves beyond all reason. Everything, Everything is her first novel.