Fire and Flood by Victoria Scott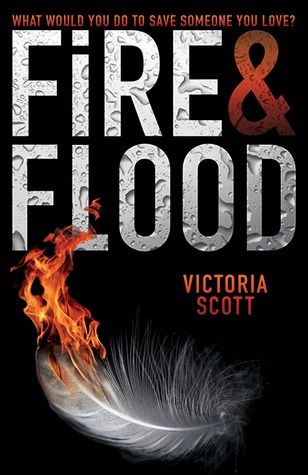 Publication date: February 25th 2014
Publisher: Scholastic Press
Number of pages: 305
Series: Fire & Flood (1#)
Genre: YA Dystopian
Source: Borrowed. This is my honest opinion.
Goodreads synopsis:
Time is slipping away….
Tella Holloway is losing it. Her brother is sick, and when a dozen doctors can't determine what's wrong, her parents decide to move to Montana for the fresh air. She's lost her friends, her parents are driving her crazy, her brother is dying—and she's helpless to change anything.
Until she receives mysterious instructions on how to become a Contender in the Brimstone Bleed. It's an epic race across jungle, desert, ocean, and mountain that could win her the prize she desperately desires: the Cure for her brother's illness. But all the Contenders are after the Cure for people they love, and there's no guarantee that Tella (or any of them) will survive the race.
The jungle is terrifying, the clock is ticking, and Tella knows she can't trust the allies she makes. And one big question emerges: Why have so many fallen sick in the first place?
Victoria Scott's breathtaking novel grabs readers by the throat and doesn't let go.
Review:
My thoughts are kind of confuzzled about this book. The best I can do is try and make sense of them, read on at your own risk.
So I had heard some pretty fantastic things about Fire and Flood. I'm thinking a fair few of you who may be reading this review will know of some of the comparisons that have been made. I have seen a few along the lines of: "Hunger Games meets The Amazing Race meets Pokemon!". I've NEVER seen a Hunger Games comparison before, so that totally intrigued me (the sarcasm drips from my voice). But really, what got me was the Pokemon comparison. How cool is that?!
The Pokemon sort of thing was probably my favourite part of the book. I am an animal lover, so that kind of hit home, and I love the Pokemonish aspect of animals with powers. But in Fire and Flood they're called Pandoras. That name just sounds/looks mystical, especially when I italicise it.
I got along with the main character, Tella, just fine. Really, just fine. Not well, not badly, fine. I did a fashion inspired post on her, actually. And as for the romance, that was kind of mediocre. Barely there, but still there.
The second half of the book was where it really picked up for me. You see, I wasn't really feeling the main character's "voice" and I stopped caring about that when all the major action kicked in.
Fire and Flood wasn't quite as good as I had expected but it still deserves a four style rating. I'm looking forward to and am curious about the rest of the series. In fact, I would very much like a sequel.
I would actually recommend Fire and Flood to a middle grade audience as well. I think it's appropriate and the main character's voice is reminiscent of a middle grade book to me. But that ian't to say those who are YA only/mostly centred (like me) won't like it. I think it's just one of those ones that may be a cross-over.
4/5 comets
Meteor shower. A great show.
Add to Goodreads
Goodreads author bio:
Victoria Scott is a teen fiction writer represented by Sara Crowe. She's the author of the FIRE & FLOOD series published by Scholastic, and the DANTE WALKER trilogy published by Entangled Teen. Her books have been bought and translated in eleven foreign markets including the UK, Turkey, China, Poland, Germany, Australia, Israel, Taiwan, Brazil, New Zealand, and the Netherlands.
Victoria lives in Dallas with her husband and hearts cotton candy something fierce.