Excuse me a moment:
 (source)
That. Cover.
A Thousand Pieces of You by Claudia Gray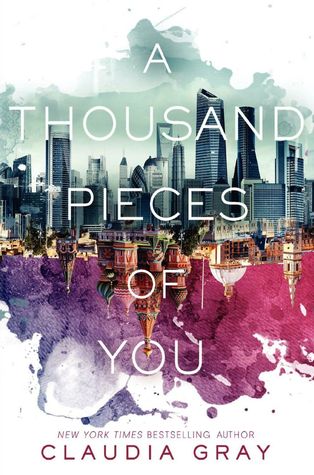 Publication date: November 4th 2014
Publisher: Harper Teen
Number of pages: 368
Series: Firebird (1#)
Genre: YA Science Fiction/Fantasy
Source: Borrowed. This is my honest opinion.
Goodreads synopsis:
Every Day meets Cloud Atlas in this heart-racing, space- and time-bending, epic new trilogy from New York Times bestselling author Claudia Gray.
Marguerite Caine's physicist parents are known for their radical scientific achievements. Their most astonishing invention: the Firebird, which allows users to jump into parallel universes, some vastly altered from our own. But when Marguerite's father is murdered, the killer—her parent's handsome and enigmatic assistant Paul—escapes into another dimension before the law can touch him.
Marguerite can't let the man who destroyed her family go free, and she races after Paul through different universes, where their lives entangle in increasingly familiar ways. With each encounter she begins to question Paul's guilt—and her own heart. Soon she discovers the truth behind her father's death is more sinister than she ever could have imagined.
A Thousand Pieces of You explores a reality where we witness the countless other lives we might lead in an amazingly intricate multiverse, and ask whether, amid infinite possibilities, one love can endure.
Review:
I had absolutely no idea whatsoever that I would love this book.
Perhaps it had something to do with the fact that Claudia Gray has absolutely flawless writing that manages to sweep you into a tale that you hope will never let you go.
But who knows?
There a couple of reasons that I was attracted to this book: mainly because IS THAT RUSSIA ON THE COVER?!, wait the rest of the cover is gorgeous too and Claudia Gray. I am sorry if that is undecipherable to anyone else reading this. Let me explain: I will read any book that isn't set the United States, Australia or England. But put in front of me anything set in places from Scotland to France to Italy to Lithuania to Brazil to Kenya to China to Qatar and I will go crazy and try and pry it from your hands. Travelling is one of my favourite things in the entire world and I love reading books set in other countries. Anywhere. So when I saw Russian architecture on the cover I flipped out. Secondly, the rest of the cover is simply smashing. It's seriously beautiful. And last of all, Claudia Gray. I have read Evernight so many times and LOVED it. And I loved her book Fateful even more. I really liked (but admittedly that's all) her book, Spellcaster. So naturally I wanted to read this.
This book was set in the most amazing places: futuristic London, Russia and under the sea. Brilliant, I know. All amazing places.
And better yet was how her character changed each time. I practically even got my historical fiction fix when Marguerite was the Tsar's daughter. It was also pretty cool when she was a socialite and underwater.
Perhaps the coolest thing was the basic idea that every time a decision is made, a new dimension is created. That's pretty crazy. Imagine for example, a world where your mother turned down your dad's proposal (if they got married). Would you have been born?
Now imagine an interdimensional (I do not get to say that enough) chase through infinite realms of infinite possibilities.
I never wanted to leave that book. I loved it so much. I loved the characters. I never wanted it to end. I was geniunely disappointed to finish it. And then I saw the cover of the sequel, which has Paris on it coincidentally, and said "ok then" and put it down. Plus I really needed to know what was going to happen anyway.
I did initially have my apprehensions about beginning this book. And I think that mentality almost stopped me from getting into this book. I just have had some negative experiences with the writing of time-travel books. But once I got into it, I was INTO it.
I absolutely loved the characters. I loved Marguerite and her dad, Theo and Paul. Especially Paul. Marguerite was smart, artistic and was perfect for the book. And I had a major "feels" moment as well.
I am now so excited about reading the sequel. If you haven't read it yet, here you go. This is the final push you need. Read it now. Why are you still reading this review? Go go go go go.
5/5 comets
Bye, bye Earth! Out of this world.
Add A Thousand Pieces of You to Goodreads
Goodreads author bio:
Claudia Gray is not my real name. I didn't choose a pseudonym because my real name is unpleasant (it isn't), because I'd always dreamed of calling myself this (I haven't) or even because I'm hiding from the remnants of that international diamond-smuggling cartel I smashed in 2003 (Interpol has taken care of them). In short, I took a pseudonym for no real reason whatsoever. Sometimes this is actually the best reason to do things.
I live in New Orleans. So far, in life, I've been a disc jockey, a lawyer, a journalist and an extremely bad waitress, just to name a few. I especially like to spend time traveling, hiking, reading and listening to music. More than anything else, I enjoy writing.