There once was a time when a brave, brilliant, modest girl attempted acknowledgeable feat – rereading the first five books of The Mortal Instruments series and all three of The Infernal Devices books.
Now who would dare attempt such a ridiculous feat? And why?

 (source)
Why, Olivia D'Bookcomet of course!

 (source)
Our admirable heroine needed to reread the books as she read all but Clockwork Princess two years ago and had forgotten everything. For, she needed to read the much anticipated City of Heavenly Fire!
Ok, ok. I'm done now. That may not seem like an incredible feat to most people (don't worry, I was exaggerating). The point is, that all of those books are rather large. Like City of Heavenly Fire is 730 or so pages. I get burnt out reading loads of books normally in a series, which are usually trilogies and consist of books that are about 300 – 400 pages. Most of those books above are at least 500 pages and there are 9 of them (not including The Bane Chronicles).
I did have to take a break once and read The Winner's Crime. But otherwise it was fine after I got to City of Fallen Angels because after City of Glass the books alternate with The Infernal Devices, which has a different storyline.
If you didn't know, the recommended reading order is to read them in order of publication:
City of Bones
City of Ashes
City of Glass
Clockwork Angel
City of Fallen Angels
Clockwork Prince
City of Lost Souls
Clockwork Princess
City of Heavenly Fire
So here is the review of the book I had been anticipating for TWO YEARS:
—-
(SPOILER-FREE)
City of Heavenly Fire by Cassandra Clare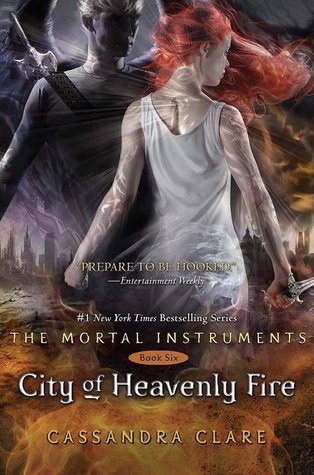 Publication date: May 28th 2014 (first published January 1st 2014)
Publisher: Walker Books Ltd
Number of pages: 733
Series: The Mortal Instruments (6#)
Genre: YA Fantasy
Source: Won. This is my honest opinion.
Goodreads synopsis:
Lives will be lost, love sacrificed, and the whole world changed in the sixth and last instalment of the internationally bestselling The Mortal Instruments series.
Erchomai, Sebastian had said. I am coming.
Darkness returns to the Shadowhunter world. As their society falls apart around them, Clary, Jace, Simon and their friends must band together to fight the greatest evil the Nephilim have ever faced: Clary's own brother. Nothing in this world can defeat him – must they journey to another world to find the chance?
Review:
How on Earth can I be expected to do this book justice?
The Mortal Instruments and The Infernal Devices together make two of my favourite series of all-time. They make me feel so much and truly are amazing.
City of Heavenly Fire was especially intense. I was hooked all through the pages, scared of what was going to happen, completely unsure of what was going to happen. There were twists and I had absolutely no idea where the story was going to go prior to reading this but I can tell you now that it went in all the right directions. Plot twists were executed flawlessly and I am perfectly (well, almost) happy with the way it ended.
But I mean, you'd have to be. To have been so invested in a series so long, to be so attached to all the characters, the book has to end right. And I was terribly scared that I was going to be left an emotional wreck after some things happened, but it I could deal.
And that means something, considering that I'm not a book-crier, yet I was in tears more than once in this book. Like actual tears. And that never happens. I was so scared for the characters, and Cassandra Clare is not afraid to but you through pain, heartbreak, love, humour and all kinds of crazy emotions. After all, Clockwork Princess warned me about what her series conclusions could be like.
I feel like I know the characters so well. I could never forget them and I was genuinely scared for them. As in willing Cassandra Clare not to kill them off. I won't say if anyone died. I have never been tempted to peek at the ending of a book before, but this time I felt it. I didn't of course, because someone walked in the room thankfully and I begged them to tell me off for even thinking that.
I also loved the inclusion of some cross-over characters from the other series. And I loved how we were introduced to Emma Carstairs who will have her series in what now seems to be 2016. I am not the biggest fan of 12 year old Emma, to be honest, so let's hope 17 year old Emma is more likeable. Then her next spin-off series comes in 2017. Oh the pain of the wait.
One thing that did begin to bug me a bit was how much Cassandra Clare writes the word 'ichor'. I'll admit, it is a pretty cool word, but it's used in both of her series, in all her books. It could be worse, though.
I'm going to cut my review here though. I could go on forever about how brilliant it is but I want to keep my review spoiler-free and I can not possibly do this book justice anyway.
If you haven't read this series (or The Infernal Devices), make it your next book.
5/5 comets
Bye, bye Earth! Out of this world!
Add City of Heavenly Fire to Goodreads
Goodreads author bio:
Cassandra Clare was born overseas and spent her early years traveling around the world with her family and several trunks of fantasy books. Cassandra worked for several years as an entertainment journalist for the Hollywood Reporter before turning her attention to fiction. She is the author of City of Bones, the first book in the Mortal Instruments trilogy and a New York Times bestseller. Cassandra lives with her fiance and their two cats in Massachusetts.
—-
Please, if you haven't read this series, do. It really is amazing. I love it so much. And while you're at it, read The Infernal Devices.
I'll link you to my previous reviews on Goodreads, but don't get too excited. I wrote most of them two years ago and this morning I realised two didn't even have reviews, so I added a sentence or two. But here you go:
And so I'm super excited to get started on The Bane Chronicles! In about five minutes. Although I hope to have finished it by the time this post goes up.
Have you read The Mortal Instruments/The Infernal Devices? Did you love them or could you take it or leave it? Are you excited for the two new Shadowhunter series coming out?