Trendy Thursday 15#
The Rules:
You can make an outfit that can be worn in real life inspired by an character in a book you have recently read and reviewed. If not, you can just make an outift for any book.
Design an outfit you think they would wear.
Leave a comment down below with the link to your blog.
Post the Trendy Thursdays sticker on your blog (or make your own) with a link to my blog (Bookcomet).
Try to post something for each catergory.
Have fun!
This week's book is…
Grave Mercy by Robin LaFevers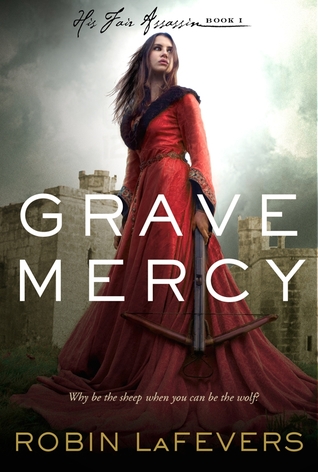 Goodreads synopsis –
Why be the sheep, when you can be the wolf?
Seventeen-year-old Ismae escapes from the brutality of an arranged marriage into the sanctuary of the convent of St. Mortain, where the sisters still serve the gods of old. Here she learns that the god of Death Himself has blessed her with dangerous gifts—and a violent destiny. If she chooses to stay at the convent, she will be trained as an assassin and serve as a handmaiden to Death. To claim her new life, she must destroy the lives of others.
Ismae's most important assignment takes her straight into the high court of Brittany—where she finds herself woefully under prepared—not only for the deadly games of intrigue and treason, but for the impossible choices she must make. For how can she deliver Death's vengeance upon a target who, against her will, has stolen her heart?
—-
The dress:
The hairstyle:
The makeup:
Nails:
The shoes:
*Please note that these images were taken from Google Images, except the book cover (Goodreads) and the Trendy Thursdays sticker (me).