Infinityglass by Myra McEntire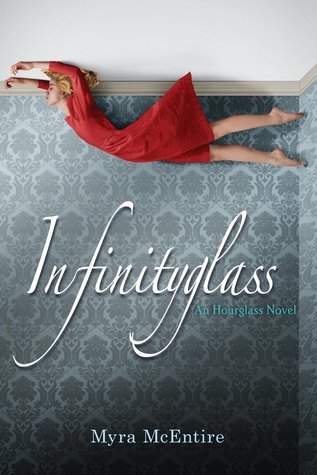 Publication date: August 6th 2013
Publisher: EgmontUSA
Number of pages: 293
Series: Hourglass (3#)
Genre: YA Sci-fi/Time-travel
Source: Received in exchange for review. This is my honest opinion.
 Goodreads synopsis:
No time like the present.
No time in the present.
No time left.

From the moment the Hourglass group violated the rules of the space time continuum to rescue a murdered loved one, time has been in flux. People from other centuries slide into our time, intruding into our space, threatening our world.
Frantically seeking a way to turn back this tide, the Hourglass begins a search for the legendary Infinityglass, tracking it to the city of New Orleans, a place where the past rests easily with the present.
Quiet, reliable Dune, the group's favourite geek, is selected to travel to the Crescent City and somehow retrieve the renowned object.
But there's a problem.
Because the Infinityglass is not an object, it's a person.
A beautiful, headstrong dancer named Hallie, a girl so enticing Dune can't take his eyes off her.
And time is not on her side.
 Review:
And, sigh, that's the end of another series.
But what a great ending it was.
It was a total awwww ending, one that fills you with happiness. Sometimes we just need those endings that make you feel happy where everything works out. It was just great, I love it when final books have an epilogue because it wraps everything up and let's you know what happens in the future. I felt that the ending to Infinityglass was ideal – all the loose knots were tied up well.
I was very surprised that the story was told from a new character's point of view, Hallie, and Dune. In the other two books, very little was shared about Dune, so he was the last person I thought would be a narrator. I was even more surprised that there were two points of view. One of the things I love about these books, is that even though the narrator of the story changes, we still see plenty of the other characters that we have grown attached to.
I was kind of hoping that there would be some time-travel in Infinityglass but I had no such luck. Hallie's transmutations and the brief rip scenes didn't really count. Still, I was able to look past that because Infinityglass still was a great book.
Perhaps Hallie is one of my favourite characters. I mean, Kaleb will always reign supreme, but Hallie wasn't that far from him. Really, all the characters were fantastic. I feel like I know them all really well and I love how they have all (well almost all of them) have been paired off.
The Hourglass trilogy must be pretty good if I can read them all back to back without feeling washed out or bored. That has happened to me a fair few times before, so it must say something if I'm interested in the series the whole time. I think that each book in the series gets better and better, the first book took me a while to get into, I was straight into the second book and I don't think I really left the third book while reading it.
Myra McEntire creates excellent imagery in her writing. I could always picture her scenes and once again, that doesn't always happen with me.
I think that the Hourglass trilogy was excellent and Infinityglass certainly met my expectations as a series conclusion. If you need a little YA sci-fi in your life, look no further.
4/5 comets!
A meteor shower. A great show.
Add to Goodreads