Kissing in America by Margo Rabb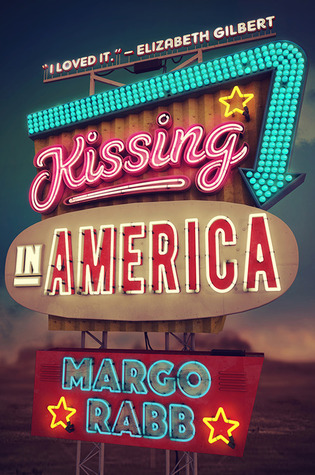 Publication date:  May 26th 2015
Publisher: Harper
Number of pages: 400
Series: N/A
Genre: YA Contemporary
Source: Received in exchange for review. This has not influenced my review.
Goodreads synopsis:
"Wise, inspiring, and ultimately uplifting—not to be missed."—Kirkus Reviews, starred review
"A hilarious, thought-provoking, wrenching, and joyful quest."—Publishers Weekly, starred review
"Authentic and complex…This is a smart teen's novel."—Booklist, starred review
Acclaimed writer Margo Rabb's Kissing in America is "a wonderful novel about friendship, love, travel, life, hope, poetry, intelligence, and the inner lives of girls," raves internationally bestselling author Elizabeth Gilbert (Eat, Pray, Love).
In the two years since her father died, sixteen-year-old Eva has found comfort in reading romance novels—118 of them, to be exact—to dull the pain of her loss that's still so present. Her romantic fantasies become a reality when she meets Will, who seems to truly understand Eva's grief. Unfortunately, after Eva falls head-over-heels for him, he picks up and moves to California without any warning. Not wanting to lose the only person who has been able to pull her out of sadness—and, perhaps, her shot at real love—Eva and her best friend, Annie, concoct a plan to travel to the west coast to see Will again. As they road trip across America, Eva and Annie confront the complex truth about love.
In this honest and emotional journey that National Book Award finalist Sara Zarr calls "gorgeous, funny, and joyous," readers will experience the highs of infatuation and the lows of heartache as Eva contends with love in all of its forms.
Review:
Cute and fun, Kissing in America makes for a great in-between kind of read. For when you need to break from the hardcore stuff.
I say this because while it was good, it wasn't great. One of those reads for me. The good and the bad seemed to balance themselves out for me. For example, I really enjoyed the beginning but I wasn't impressed by the end.
I actually became interested in this book first when I read a sample as part of the Buzz Books 2015 sample collection. I absolutely loved the sample and therefore the beginning. In fact the excerpts from the romance novels the main character read really amused me. Particularly the use of "man-dew". Just wow.
Speaking of the romance novels bit, I found them to be a win-lose kind of deal. I loved reading about a character who loved those cheap, trashy books I see going ridiculously cheap in bins in department store. I thought it was cute and quirky. And I kind of relate to her in some ways, although I tend to stray from those particular types of books. But I didn't like their influence on the story. I felt like they almost kind of made her stupid.
I know that's a harsh thing to say. But the way she obsessed over a boy which to be honest she didn't even know that well,from what I read in the book anyway. And it's pretty sad that she went to such extremes to follow a crush to another city. Borderline concerning. The way she treated her best friend in that sense was pretty average.
The book was a pretty quick read for me. Particularly the first half. The second half wasn't as good. Most of the second half was travelling actually, and that really slowed it down too much.
I don't feel like there's much more to say. I would recommend this book, even if it doesn't sound like it. Maybe borrow rather than buy is what I'm saying.
3/5 comets
The Earth shook. If they thought the Leaning Tower of Pisa was leaning before…
Add Kissing in America to Goodreads
Goodreads author bio:
Short bio: I love books, chocolate, cats (especially of the Edward Gorey variety), old movies, and more chocolate.
Long bio: I'm the author of the novels Kissing in America and Cures for Heartbreak, and I've written essays, articles, book reviews, and short stories for The New York Times, The New York Times Book Review, The Atlantic, Slate, The Rumpus, Zoetrope: All-Story, Seventeen, Best New American Voices, New Stories from the South, and One Story, and elsewhere. I grew up in Queens, NY, and recently moved from Austin, TX to Philadelphia, PA. I write about grief a lot (my mom died when I was in my teens and my dad died when I was in my twenties). Here's a link to an essay I wrote recently, about the death of my cat and the death of my mom (it was published, coincidentally, on the 24th anniversary of my mom's death):
http://opinionator.blogs.nytimes.com/…
Thank you for taking a look at the stuff I've written–sending you some virtual chocolate as you read! 🙂
website: www.margorabb.com
Twitter: @margorabb