I know that this post is late, and I feel incredibly guilty about that but I had a test at school that I absolutely had to concentrate on. But here it is!
 Torn Away by Jennifer Brown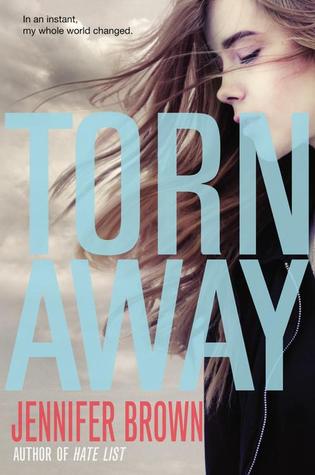 Publication date: May 6th 2014
Publisher: Little, Brown Books for Young Readers
Number of pages: 288
Series: N/A
Genre: YA Contemporary
Source: Received in exchange for review as part of the blog tour. This is my honest opinion.
  Goodreads synopsis:
Born and raised in the Midwest, Jersey Cameron knows all about tornadoes. Or so she thinks. When her town is devastated by a twister, Jersey survives — but loses her mother, her young sister, and her home. As she struggles to overcome her grief, she's sent to live with her only surviving relatives: first her biological father, then her estranged grandparents.
In an unfamiliar place, Jersey faces a reality she's never considered before — one in which her mother wasn't perfect, and neither were her grandparents, but they all loved her just the same. Together, they create a new definition of family. And that's something no tornado can touch.
  Review:
Beginning Torn Away, I was expecting to be blown away (tornado related pun not intended, actually it totally was). I think it's safe to say that I was.
This is my second book by Jennifer Brown. I had been wanting to read two others by her for ages, so when a chance arose for me to read her new book, I was climbing over myself to get to it. I read The Hate List, which I really enjoyed, and I have to say that the bar for Torn Away was raised pretty high.
Honestly, the plot didn't sound as exciting as the others to me but I think it ended up being my favourite book. I never, and still don't, know much about tornadoes so it was quite a different read for me. I guess I didn't really think about them at all, let alone the devastating effect they have, because I don't live in an area that ever has them.
One thing that Jennifer Brown does very, very well, is writing the serious scenes. She makes them scary without being particularly gory. My eyes was inseparable from the screen and even now we have broken up I can't stop thinking about it. L
There are so many heartbreaking scenes in her books. Her family scenes seem to be the worst. I haven't cried yet but am wavering dangerously close. I think part of it is how realistic it is.
The characters are so carefully constructed with issues and more real personalities. They each have their own backstory and even I can visualise them. They were…imperfect. But I think that's partly what made them perfect.
Something that I found curious was that there wasn't really a love story. It really wasn't concentrated on at all. There were a few hints towards one though.
Whether you were a fan of Jennifer Brown's other books or you have yet to read them, I can't help but recommend Torn Away. It was fantastic and I really, really enjoyed it.
  5/5 comets!
Bye, bye Earth! Out of this world!
Add to Goodreads
  Goodreads author bio:
Two-time winner of the Erma Bombeck Global Humor Award (2005 & 2006), Jennifer's weekly humor column appeared in The Kansas City Star for over four years, until she gave it up to be a full-time young adult novelist.
Jennifer's debut novel, HATE LIST (Little, Brown Books for Young Readers, 2009) received three starred reviews and was selected as an ALA Best Book for Young Adults, a VOYA "Perfect Ten," and a School Library Journal Best Book of the Year. HATE LIST also won the Michigan Library Association's Thumbs Up! Award, the Louisiana Teen Readers Choice award, the 2012 Oklahoma Sequoyah Book Award, was an honorable mention for the 2011 Arkansas Teen Book Award, is a YALSA 2012 Popular Paperback, received spots on the Texas Library Association's Taysha's high school reading list as well as the Missouri Library Association's Missouri Gateway Awards list, and has been chosen to represent the state of Missouri in the 2012 National Book Festival in Washington, DC. Jennifer's second novel, BITTER END, (Little, Brown Books for Young Readers, 2011) received starred reviews from Publishers Weekly and VOYA and is listed on the YALSA 2012 Best Fiction for Young Adults list and is a 2012 Taysha's high school reading list pick as well.
Jennifer writes and lives in the Kansas City, Missouri area, with her husband and three children.
—-
This tour was hosted by IFB Tours! Click HERE to visit!