The Impossible Knife of Memory by Laurie Halse Anderson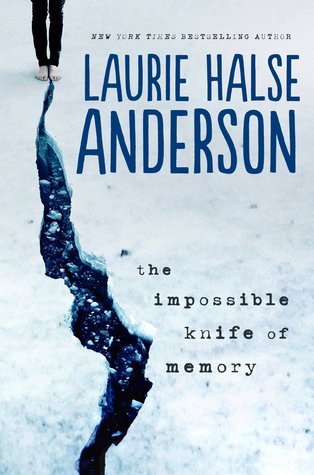 Publication date: January 2nd 2014
Publisher: Viking Juvenile
Number of pages: 391
Series: N/A
Genre: YA Contemporary/Realistic Fiction
Source: Borrowed. This is my honest opinion.
Goodreads synopsis:
For the past five years, Hayley Kincain and her father, Andy, have been on the road, never staying long in one place as he struggles to escape the demons that have tortured him since his return from Iraq. Now they are back in the town where he grew up so Hayley can attend school. Perhaps, for the first time, Hayley can have a normal life, put aside her own painful memories, even have a relationship with Finn, the hot guy who obviously likes her but is hiding secrets of his own.
Will being back home help Andy's PTSD, or will his terrible memories drag him to the edge of hell, and drugs push him over? The Impossible Knife of Memory is Laurie Halse Anderson at her finest: compelling, surprising, and impossible to put down.
Review:
There is just something about realistic fiction that gets me. Like GETS ME.
I'd have to say that the prime suspect would be the voice. Writers like Laurie Halse Anderson write with this voice that is so raw and realistic, meaning teenagers like myself can really associate with the characters like Hayley.
Hayley was a fantastic character. She had spunk (I love that word) and attitude without being over the top or nasty or irritating. And if you pair a character like Hayley with a character like Finn, then you have pretty much reached character perfection. Finn was so cute and funny and I just loved their relationship.
Before I go any further, I just have to get this out there: I love the cover. It's really cool in person.
I know that Laurie Halse Anderson has won tons of awards and I honestly have to say that that is what attracted me to The Impossible Knife of Memory. I had never read anything by her and I saw a copy of this at my library and kind of said "why not?". I have to say that a topic like PTSD isn't something that I hear much about so I wasn't exactly tripping over myself to read a book about something I knew very little about. If Laurie Halse Anderson deals with the gritty stuff like she does in The Impossible Knife of Memory in all her books, then I see why they're so popular. It's not too tame and it's not too graphic.
Expanding on my last point, that I think Laurie Halse Anderson did very well with including stuff about PTSD, I really liked the odd chapters written in italics of her father's flashbacks to the war.
I would definitely recommend this if you are into realistic fiction. Don't worry if you don't know much about PTSD because as long as you know roughly what it is, you'll be fine.
4/5 comets
A meteor shower. A great show.
Add to Goodreads
Author bio:
Laurie Halse Anderson is the New York Times-bestselling author who writes for kids of all ages. Known for tackling tough subjects with humor and sensitivity, her work has earned numerous ALA and state awards. Two of her books, Speak and Chains, were National Book Award finalists.
Mother of four and wife of one, Laurie lives in Northern New York, where she likes to watch the snow fall as she writes. You can follow her adventures on Twitter, http://twitter.com/halseanderson and on her tumblr http://lauriehalseanderson.tumblr.com/