Black Ice by Becca Fitzpatrick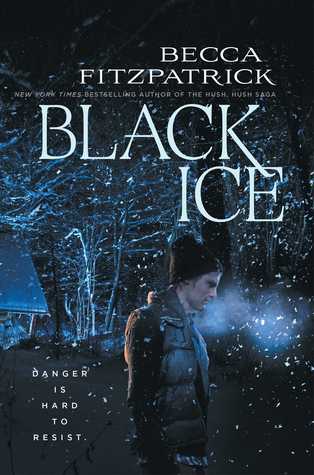 Publication date: October 7th 2014
Publisher: Simon & Schuster Books for Young Readers
Number of pages: 400
Series: N/A
Genre: YA Thriller/Mystery
Source: Received in exchange for review. This is my honest opinion.
Goodreads synopsis:
Danger is hard to resist in this sexy thriller from Becca Fitzpatrick, theNew York Times bestselling author of the Hush, Hush saga.
Brit Pheiffer has trained to backpack the Teton Range, but she isn't prepared when her ex-boyfriend, who still haunts her every thought, wants to join her. Before Britt can explore her feelings for Calvin, an unexpected blizzard forces her to seek shelter in a remote cabin, accepting the hospitality of its two very handsome occupants;but these men are fugitives, and they take her hostage.
Britt is forced to guide the men off the mountain, and knows she must stay alive long enough for Calvin to find her. The task is made even more complicated when Britt finds chilling evidence of a series of murders that have taken place there and in uncovering this, she may become the killer's next target.
But nothing is as it seems, and everyone is keeping secrets, including Mason, one of her kidnappers. His kindness is confusing Britt. Is he an enemy? Or an ally?
Black Ice is New York Times bestselling author Becca Fitzpatrick's riveting romantic thriller set against the treacherous backdrop of the mountains of Wyoming. Falling in love should never be this dangerous.
Review:
Black Ice just gave me the chills.
I haven't read many suspense/thriller books before. I just haven't really come across one or gone out of my way to read one. I know of quite a few YA suspense books but I just haven't really been motivated enough to pick one up.
Really though, I read this in less than a day. An afternoon even. I wasn't rushing through it or anything, it's just one of those books where you can sit yourself down and watch the story unfurl in front of your eyes.
I genuinely had no idea which of the three guys did it. I suspected each them at one point. Just when I was like 'Aha! I knew it was you!' one of the other two guys would do something suspicious or something guilty about their past would be revealed. Although, I did have more trust in Mason more than the other two.
The main thing that attracted me to Black Ice would have been the author. Unlike a few other book bloggers I know, I am a fan of Becca Fitzpatrick's 'Hush, Hush' series and I was pretty sure I would like this one. My expectations weren't huge, but they were at around a four star review. I think this is actually a little better than I expected, even if this is actually a four star review. So I'd say it surpassed my expectations.
I'm just going to say that I wasn't a huge fan of the relationship between the main character and any of the guys. Whether it was the one between her and her ex-boyfriend or the one between her and Mason. I just wasn't sold.
Another problem I had was that I struggled with the idea that the main character and her best friend just went into a house with two strange older boys that hadn't (really) previously met. I mean, haven't you heard of 'stranger danger' and all that? I understand their options were limited, but not completely to the choice they made.
Another thing I did like, however it's a little strange, was the constant feeling that something was wrong. I thought it really built to the atmosphere of the book.
And that ending! Perfetto.
I would definitely recommend Black Ice to fans and non-fans of Hush, Hush. It's very different and in that sense incomparable. The story is good and wouldn't even make a bad read on Halloween.
4/5 comets
Meteor shower. A great show. 
Add Black Ice to Goodreads
Goodreads author bio:
Becca Fitzpatrick grew up reading Nancy Drew and Trixie Belden with a flashlight under the covers. She graduated college with a degree in health, which she promptly abandoned for storytelling. When not writing, she's most likely prowling sale racks for reject shoes, running, or watching crime dramas on TV. She is the author of the bestselling HUSH, HUSH Saga. Her new book BLACK ICE arrives in bookstores everywhere October 7, 2014.