scarlet by Marissa Meyer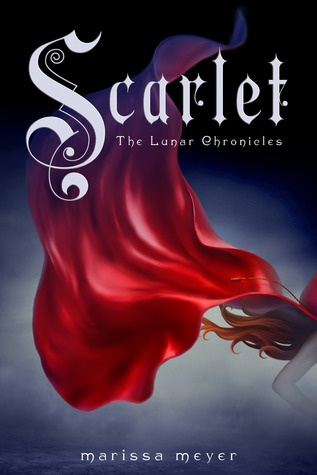 Publication date:  January 1st 2013
Publisher: Feiwel and Friends
Number of pages: 452
Series: The Lunar Chronicles (2#)
Genre: YA Science Fiction/Dystopia/Retelling
Source: Received as a gift! This has not influenced my review.
Goodreads synopsis:
Cinder, the cyborg mechanic, returns in the second thrilling installment of the bestselling Lunar Chronicles. She's trying to break out of prison–even though if she succeeds, she'll be the Commonwealth's most wanted fugitive.
Halfway around the world, Scarlet Benoit's grandmother is missing. It turns out there are many things Scarlet doesn't know about her grandmother or the grave danger she has lived in her whole life. When Scarlet encounters Wolf, a street fighter who may have information as to her grandmother's whereabouts, she is loath to trust this stranger, but is inexplicably drawn to him, and he to her. As Scarlet and Wolf unravel one mystery, they encounter another when they meet Cinder. Now, all of them must stay one step ahead of the vicious Lunar Queen Levana, who will do anything for the handsome Prince Kai to become her husband, her king, her prisoner.
Review:
You've never seen Little Red Riding Hood told this way before. And you certainly aren't supposed to fall in love with the wolf.
But here we are.
Marissa Meyer is a storytelling mastermind – she has done some amazing setting up for the rest of the series. The lives of all the major characters from four very different fairytales are all cleverly tangled together, despite how different the storylines are. And I love every single character.
Especially Thorne. He's so funny and I can't wait to see him more in Cress. Scarlet and Wolf were so cute as well. Or at least Wolf is. He seems really awkward.
Unfortunately I didn't enjoy Scarlet as much as Cinder. I thought that in comparison the story moved very slowly and wasn't as interesting. Scarlet was mostly about Scarlet looking for her grandmother were as I felt Cinder went through a lot more. It took me a lot longer to read Scarlet than I did Cinder.
I absolutely loved the setting. France is one of my favourite places on Earth and I would love to read more stories that are set there. Although perhaps I would have enjoyed it more if a couple of more details specifically about France had been mentioned, without being told it was France, you wouldn't really know where it was set. You could probably guess that it was set in Europe though. And to be honest, Futuristic France would almost definitely have very little in common with Current France, particularly with all it had gone through to get to Futuristic France.
One thing that I particularly love about the Lunar Chronicles is that the characters from previous books return, even though it is kind of a companion series in the way that each book is predominantly about someone new. But at the same time it's really not a companion series either.
I'm so excited to continue on with the series. I loved Cinder when I first read it (constantly addressing it as a favourite) and now I love Scarlet. As I'm writing this review I'm almost half way through Cress and adoring it. I am completely gutted that I have to wait ages for Winter.
4/5 comets
Meteor shower. A great show!
Add Scarlet to Goodreads
Goodreads author bio:
I live in Tacoma, Washington, with my fiancé and our two cats. In addition to my slight obsession with books and writing, I'm big on road-tripping, wine-tasting, and hunting for antiques. I'm represented by Jill Grinberg.
CINDER, my debut novel, is a futuristic re-envisioning of Cinderella in which Cinder is a cyborg mechanic. Release date: 3 Jan 2012.