Cress by Marissa Meyer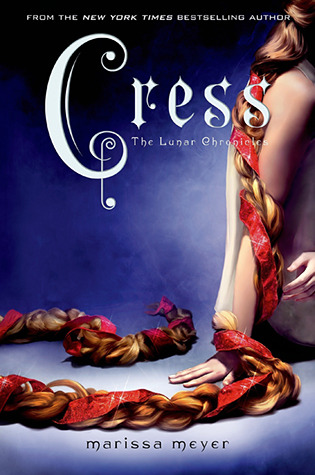 Publication date:  February 4th 2014
Publisher: Feiwel and Friends
Number of pages: 550
Series: The Lunar Chronicles (3#)
Genre: YA Science Fiction/Dystopia/Retelling
Source: Received as a gift! This has not influenced my review.
Goodreads synopsis:
In this third book in the Lunar Chronicles, Cinder and Captain Thorne are fugitives on the run, now with Scarlet and Wolf in tow. Together, they're plotting to overthrow Queen Levana and her army.
Their best hope lies with Cress, a girl imprisoned on a satellite since childhood who's only ever had her netscreens as company. All that screen time has made Cress an excellent hacker. Unfortunately, she's just received orders from Levana to track down Cinder and her handsome accomplice.
When a daring rescue of Cress goes awry, the group is separated. Cress finally has her freedom, but it comes at a high price. Meanwhile, Queen Levana will let nothing prevent her marriage to Emperor Kai. Cress, Scarlet, and Cinder may not have signed up to save the world, but they may be the only hope the world has.
Review:
Cress should really come with an instruction manual titled, "How to Carry on With Life After Cress". That's if there IS a life after Cress.
Marissa Meyer is one super talented, super clever person. Her stories seem so vivid and real to me. Every single little detail in her books is so articulately planned out, like how the stories and characters merge with each other – and how they merge with the original fairytale. One of the most enjoyable aspects of Cress for me was guessing if one thing was trying to symbolise something else from the original. Plus it was great fun to revisit all the fairytales I fell in love with when I was younger – and still love now – and realise all the things I had forgotten over time.
And as I said before, I love how all the lives of the characters intertwine. This is just so incredible as well, because all the characters were inspired by very different fairytales and are therefore very different in themselves. Meyer has managed to weave Cinderella, Little Red Riding Hood, Rapunzel and Snow White closely into the same fairytale.
On the topic of Snow White, I am scared of reading Winter. I'm not going to lie, when I was introduced to Winter in this book, I freaked out. SHE freaked me out. Her character was definitely a little creepy. And I am very, very curious as to how Marissa Meyer is going to write about an insane Snow White. And what freaked me out even more, was Jacin. He was introduced earlier than Winter but I knew straight away he was going to be the love interest. AND I HATE HIM. The angst right now. All the angst. But it's ok because I have faith in my favourite author to pull this off.
Speaking of love interests, I was a little disappointed in Thorne. I had such high hopes for him after Scarlet but he really wasn't himself(?) in this book. He had plenty of reason not to be but I kind of missed his arrogant jibes a bit. There were a couple but not as many. But he was so cute with Cress, almost as cute as Cress herself. If I was in the Lunar Chronicles, I would be Cress. She fits my physical description completely and is really like me on the inside too.
I wish there had been more Scarlet in this story but at the same time I didn't want there to be any less of Cinder or Cress. And the tension in this story was unbelievable. Cress was definitely setting up for one intense finale in Winter. I'm also scared of Winter because I'm absolutely terrified that someone is going to die. People also die in book finales and I LOVE THEM ALL TOO MUCH. PLEASE DON'T EVEN THINK ABOUT IT MARISSA MEYER. I even love Iko to pieces, I hope she finds a romantic interest in the next book. She needs it: first Kai then Thorne and they're both taken. The world is cruel.
Thinking about it, I would really like to see Marissa Meyer tackle the Little Mermaid. That would be cooler than a penguin in a tub of liquid nitrogen. Provided no harm came to the penguin. IT WOULD JUST BE VERY COLD AND THEREFORE COOL IF YOU KNOW WHAT I'M SAYING.
And all the feels as well. I didn't cry in The Fault in Our Stars but Cress actually brought me closer to tears with one particular scene.
I was so absorbed in the story as well. I did not want to stop reading at all. I usually keep a track of the last page but with Cress (and Scarlet and Cinder) I was completely confused when the book ended. I was not prepared at all.
I love this series, it's a favourite. You actually need to read this. I can't wait to visit the land of Lunar in Winter.
5/5 comets
Bye, bye Earth! Out of this world!
Add Cress to Goodreads
Goodreads author bio:
I live in Tacoma, Washington, with my fiancé and our two cats. In addition to my slight obsession with books and writing, I'm big on road-tripping, wine-tasting, and hunting for antiques. I'm represented by Jill Grinberg.
CINDER, my debut novel, is a futuristic re-envisioning of Cinderella in which Cinder is a cyborg mechanic. Release date: 3 Jan 2012.