Picture Perfect by Holly Smale
Publication date: June 5th 2014
Publisher: HarperCollins Children's Books
Number of pages: 400
Series: Geek Girl 3#
Genre: YA Contemporary/Humour
Source: Purchased. This is my honest opinion.
Goodreads synopsis:
"My name is Harriet Manners, and I'll always be a geek."
It's the hilarious third book in the No.1 bestselling, award winning GEEK GIRL series!
Harriet Manners knows more facts that most. She knows that New York is the most populous city in the United States. She knows that its official motto is "Ever Upward". She knows that 28% of Americans believe we never landed on the moon.
But she knows nothing about modelling in the Big Apple, and how her family will cope with life stateside. Or how to "become a brand", as the models in New York put it. And, even more importantly, what to do when the big romantic gestures aren't coming from your boyfriend…
Does geek girl go too far this time?
The laugh out loud follow-up to award winning GEEK GIRL and MODEL MISFIT will have you in stitches.
Review:
Picture perfect, yeah sure. In-flight entertainment perfect? Yeah, sure. All-around amazing read? Yeah SURE!
I totally geek out over the Geek Girl series. It's like Holly Smale has been studying me closely in a hidden laboratory for years and then suddenly decided to write a book about me. While that is incredibly unlikely (I don't think I'm currently in a lab), you have to understand what I'm getting at. Harriet Manners is SO MUCH LIKE ME. Although, however, I refer to myself as a 'nerd' rather than 'geek'.
While I don't have an absolute favourite thing about this book, all the facts scattered throughout ranks pretty highly. They're so interesting!
If you didn't pick it up earlier when I mentioned that in my opinion Picture Perfect was in-flight entertainment perfection, then I will point out that I read most of it aboard an aeroplane. Just as I did with Model Misfit. Really though, it is a great book to bring with you on a plane because a) you are so absorbed that you read it super quickly (not noticing time pass on a plane is a wonderful thing), b) it can make me laugh, c) it was never boring and d) I annoyed my family to bits with facts! Great, right?
Unfortunately, this was probably my least favourite read so far of the series. But that's not to say that I didn't love it! It would be very hard to trump Model Misfit, which was one of my favourite books of 2013!
Do I love this series to a massive extent? Yes, yes I do. Would I recommend this series to you if you asked? Yes. Over and over again.
Super excited for the next book!
5/5 comets
Bye, bye Earth! Out of this world.
Add Picture Perfect to Goodreads
Goodreads author bio: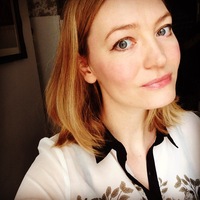 Holly is the Number One bestselling, multi-award winning author of the GEEK GIRL series.
She fell in love with writing at five years old, when she realised that books didn't grow on trees like apples. A passion for travel, adventure and wearing no shoes has since led her all over the world: she has visited 27 countries, spent two years working as an English teacher in Japan, volunteered in Nepal, been bartered for in Jamaica and had a number of ear-plugs stolen in Australia, Indonesia and India.
Holly has a BA in English Literature, an MA in Shakespeare, and currently lives in London or at @holsmale.
The GEEK GIRL series has been an internationally bestselling no1. smash-hit. It won the Waterstones Teen Prize of the Year and the Leeds book award, was shortlisted for the Roald Dahl Funny Prize and the Branford Boase award, and was long-listed for the Carnegie.