I wasn't originally going to post my review of The Winner's Curse but since I will be posting a review of the sequel soon, I thought that I ought to. You see, I read The Winner's Curse on holiday and reviews written then were rushed as I was, well, on holiday.
The Winner's Curse by Marie Rutkoski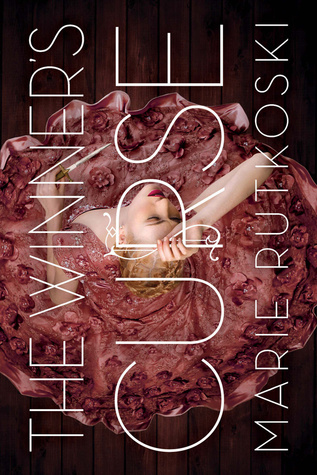 Publication date: March 4th 2014
Publisher: Bloomsbury Childrens Books
Number of pages: 368
Series: The Winner's Trilogy (1#)
Genre: YA Fantasy
Source: Purchased. This is my honest opinion.
Goodreads synopsis:
Winning what you want may cost you everything you love.
As a general's daughter in a vast empire that revels in war and enslaves those it conquers, seventeen-year-old Kestrel has two choices: she can join the military or get married. But Kestrel has other intentions. One day, she is startled to find a kindred spirit in a young slave up for auction.
Arin's eyes seem to defy everything and everyone. Following her instinct, Kestrel buys him—with unexpected consequences. It's not long before she has to hide her growing love for Arin. But he, too, has a secret, and Kestrel quickly learns that the price she paid for a fellow human is much higher than she ever could have imagined.
Set in a richly imagined new world, The Winner's Curse by Marie Rutkoski is a story of deadly games where everything is at stake, and the gamble is whether you will keep your head or lose your heart.
Review:
This is an unbelievably difficult review to write. All my thoughts seem to have blurred into one. ButAlasIWillWriteThisAnyway.
The first and foremost thing I loved about The Winner's Curse was the main theme: the winner's curse. I haven't ever really heard that theme/saying before, but maybe something similar. I loved how it was referred to at a fairly constant rate throughout the novel.
The second thing that I really liked was Kestrel herself. She was super smart and certainly knew how to strategise. And for once it was nice to read about some teen prodigy/kick-butt heroine who fought with brains rather than brawn. She knew what she wanted and figured out how to get there.
I also loved the way that the whole story was like a game the characters were playing. You don't know what the characters (and funnily enough, Kestrel) are planning to do and what their alterior motives are.
And it is ridiculously cool that this is based on the 'dynamic between the Romans and the Greeks'. I love that history period and I especially appreciate the way that the author tackled it. She did a brilliant job.
However, I was not a total fan of Arin. I understand why he was so grumpy all the time but it really got to me. I can't really say that I 'ship' him and Kestel. I liked him more towards the end a lot more though. I did (weirdly) like how his relationship with Kestrel complicated the story.
I definitely would love to read a sequel. I have. I have this prediction that Kestrel will be wearing a blue dress on the next cover.
**EDIT** – Totally called it!
I would definitely recommend it!
4.5/5 comets
4.5/5 comets
KABOOM! That only leaves one continent (one little flaw).
Add The Winner's Curse to Goodreads
Goodreads author bio:
Marie Rutkoski is the author of the YA novel The Shadow Society and the children's fantasy series The Kronos Chronicles, including The Cabinet of Wonders, The Celestial Globe and The Jewel of the Kalderash. Her next project is a YA trilogy that begins with The Winner's Curse, which is scheduled to be published in March 2014.
Marie grew up in Bolingbrook, Illinois (a suburb of Chicago), as the oldest of four children. She holds a BA from the University of Iowa and a PhD from Harvard University. Marie is currently a professor at Brooklyn College, where she teaches Renaissance Drama, children's literature and fiction writing. She lives in New York City with her husband and two sons.