Am I the only one who finds that title a little bit threatening? Wait. Don't answer that. I am just kind of imagining someone screaming 'GET HAPPY NOW' at me.
 (source)
I'm pretty sure it's supposed to actually have this effect:
 (source)
BUT anyway…
Get Happy by Mary Amato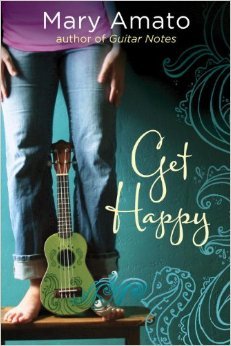 Publication date: October 1st 2014
Publisher: EgmontUSA
Number of pages: 256
Series: N/A
Genre: YA Contemporary
Source: Received in exchange for review. This is my honest opinion.
Goodreads synopsis:
In this poignant, realistic, contemporary YA by a state master list star, perfect for fans of Sarah Dessen and Gayle Forman, a young songwriter builds a substitute family with her friends in place of the broken family she grew up with.
A hip high school girl who loves music, writes songs, and is desperate for a ukelele, learns to her shock that her father did not abandon her years ago and has been trying to keep in touch. She begins to investigate him, only to discover that he has a new life with a new family, including the perfect stepdaughter, a girl who Minerva despises.
Review:
Ahem. Attention. I have an announcement to make. I actually read this book ON MY PHONE in a day. I have an additional announcement to make. I LOVED THIS BOOK!
I actually started this one on a half hour long car trip because I wanted something to read and I didn't bring my Kindle. I was searching through some books on my phone and then I read the first page of Get Happy and I just had one of those 'eureka!' moments. It was like the world stopped spinning and this beam of light shone through the window and on to my phone. That's when I knew it was meant to be.
Ok, that was totally exaggerated. Well the last sentence anyway. Don't judge. The thing is that I probably would have been blinded if the sun hit my phone screen and I've read enough dystopians to know that something majorly awful would have happened if the world stopped spinning. I like to think of myself as something of an expert on that topic.
Back to the topic. Basically what I was saying was that I was straight into the book and it was just what I was looking for.
I think my favourite thing about the book was the characters and their personalities. The main character actually had my exact sense of humour so that was great. And Finn was like the most adorable, quirkiest, funniest character ever. I love him.
And I adored the actual idea of the characters working for the Get Happy company. I love the idea of them doing parties for kids. So cool.
I am totally game to read more by this author, whether it be a sequel or a whole other book. I recommend this with all my heart!
5/5 comets
Bye, bye Earth! Out of this world!
Add Get Happy to Goodreads
Goodreads author bio:
Born January 3, 1961, in Belvidere, IL; grew up in Libertyville, Illinois; married Ivan Amato (a science writer); children: Maxwell, Simon. Pets: Sorry, none! Favorite food: Chocolate.
I studied special education and dance at Indiana University, Bloomington, Indiana. In graduate school, I studied fiction writing and poetry at Johns Hopkins University in Washington, DC.