I'm super excited to be announcing that I will be hosting the 2015 New Release Reading Challenge!
  (source)
I first discovered the necessity for this reading challenge back when I began choosing my most anticipated reads of this year. I realised that I was really struggling to narrow it down (especially compared with last year) and that if I didn't put some of the titles on my list, I would probably forget about them and never read them again. Those poor books would have to miss out on being read by my wonderful eyes.
 (source)
But joking aside, that made me feel kind of sad, so I decided that 2015 is going to be the year of new releases! So I devised a spreadsheet of books and release dates (books I was interested in only) and decided that I was going to make it into a challenge thing on the blog so that I would feel more obliged to do it. Then I thought (like an actual thought, I wondered what they felt like – kind of sticky actually) that maybe other people may want to join in as well!
The rules:
Please post the sticker above (or (a better) one you've made) and link back to me. That way other people can join in!
There will be a monthly link-up to show your progress if there are more than five participants other than myself.
All books counted must be read and published in 2015.
No novellas unless they are over 100 pages.
You must have fun. Like, or else.
 (source)
Scoring:
<5 books – at least you tried.
5-10 books – not bad at all. You may stand proudly.
11-15 books – you can be known as the 'experienced' one.
16-20 – let me bow down and kiss your feet.
>20 – just face it, you're inhuman.
Currently, I'm aiming for at least 20 new releases. Will I lower my goal? Perhaps. But optimism is key, people. If there was no optimism, how would function? We would drown in a pool of no hope. I've heard it is uncomfortable.
 (source)
Progress:
Considering it is the 8th of January today, I haven't done too badly. I have read a total of:*drumroll* one book! And that was…I Was Here by Gayle Forman (see previous post). It was pretty good, perhaps not quite meeting my ridiculously high expectations, but pretty good.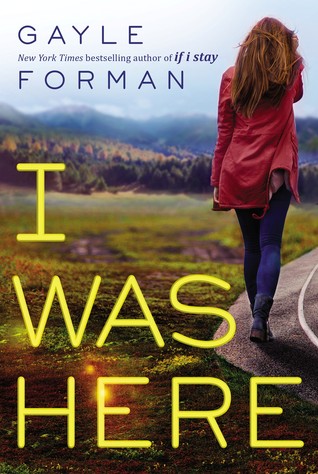 Some more January releases I'm excited for:
Vendetta by Catherine Doyle (Jan 1st)
Frostfire by Amanda Hocking (Jan 6th)
All the Bright Places by Jennifer Niven (Jan 6th)
The Conspiracy of Us by Maggie Hall (Jan 13th)
Love, Lucy by April Lindner (Jan 27th)
WAIT. On the topic of All the Bright Places, I have to say how ridiculously excited I am for it. I ordered my copy the day it came out (although I meant to before – it must have been published earlier than the 6th elsewhere because I could have bought it without pre-ordering). I completely blame my fellow bloggers on that account.
Anyway, I hope you decide to join me in my battle to read all the books. Well, most of them.
 (source)
If you would like to join, just drop me a comment to sign-up!
Byeeeeee!