I'm 99.452% (rounded to three decimal places) sure that I participated in this survey last year as well. I'm rather fond of it apparently, so I have decided to do it again! Plus it seems to cover everything I wanted to say. I did start doing my own thing but I seemed to forget how hectic Christmas and the days prior could be, so that went down the drain.
Thank you to Jamie @ The Perpetual Page-Turner  for hosting this – she's done an amazing job! Click HERE to visit her and the post!
Books read: 145! I was originally aiming for 200, but at the beginning of the year I decided that maybe that was too high for me and knocked it back to 150. Then again to 140. So I am saying that I made it 🙂
Number of re-reads: 5. I don't think that's too bad.
Most read genre: Paranormal YA. Followed pretty closely by contemporary. I think 2014 was the Year of Fantastic Conemporaries for me.
Best book you read in 2014?
Jamie says we can cheat but I'm going to go with my most RECENT favourite, which was Anna and the French Kiss by Stephanie Perkins.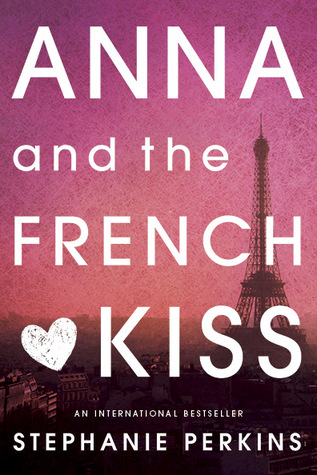 Book you were excited about & thought you were going to love more but didn't?
We Were Liars by E. Lockhart flat-out wins here. I just wasn't really that impressed – especially since I saved it until my holiday to read it.
Most suprising in a good-way book you read in 2014?
I really loved Eleanor and Park by Rainbow Rowell and I never thought I would. The description sounded vague and nothing special to me. Well I was so wrong.
Books you "pushed" the most people to read (and they did) in 2014?
I can't really think of anything in particular. But I will never stop telling people how Les Miserables is tbe best book ever when I get started.
Best series/sequel/series-ender of 2014?
That is tough. I really enjoyed the Goddess Test series by Aimee Carter!
Favourite new author you discovered in 2014?
UM. UM. UM. UM. Kylie Fornasier! I love love loved Masquerade!
Best book from a genre you don't normally read/was out of your comfort zone?
I'm not usually a reader of classics but I would marry Les Miserables. Don't test me because it would happen.
Most thrilling/action-packed/unputdownable book of the year?
Legend by Marie Lu. A spiffng show.
Book you read in 2014 that you are most likely to re-read next year?
Well, I reread City of Bones in 2014 and I dare say I will reread it again in 2015. That means I will be. It's actually a fact.
Favourite cover of a book you read in 2014?
Hmmm. I really liked the cover of The Winner's Curse by Marie Rutkoski.
Most memorable character of 2014?
Anna from Anna and the French Kiss!
Most beautifully written book of 2014?
Guess what? I don't even have to think about it. Les Miserables by far. Bet you didn't see that coming.
Most though-provoking/life-changing book of 2014?
LES MISERABLES ALL THE WAY. I have to properly learn how to speak French so I can read the non-translated version.
Book you can't believe you waited until 2014 to finally read?
I'm NOT going to mention Les Mis again, yet at least, so I'm going to say Crown of Midnight by Sarah J. Maas.
Favourite passage/quote from a book you read in 2014?
Guess the book, go on. Yes, you were right. Les Miserables. I have so may favourites but I really love:
"A garden to walk in and immensity to dream in – what more could he ask? A few flowers at his feet and above him the stars."
Shortest/longest book read in 2014?
Here we go again.
Longest – Les Miserables
Shortest – I'm not sure but probaby Life Before Legend by Marie Lu.
Book that shocked you the most?
Probably #16ThingsIThoughtWereTrue. That's all I can think of. I didnt see a particular twist coming at all.
OTP (One True Pairing) of the year (you will go down with the ship):
I would have said Anna and Etienne from Anna and the French Kiss but I would easily take care of Etienne without Anna. Which is why I'm going to say Eleanor and Park from, well, Eleanor and Park.
Favourite non-romantic relationship of the year?
The relationships between the Merrick brothers from the Elemental series by Brigid Kemmerer. Hunter included. AWWWWW.
Favourite book you read in 2014 from an author you had read previously?
Messenger of Fear by Michael Grant. SUCH a good book.
Best book you read in 2014 that you read based SOLELY on a recommendation from somebody else/peer pressure?
Eleanor and Park by Rainbow Rowell – otherwise I wouldn't have looked twice.
Newest fictional crush from a book you read in 2014?
Sorry to keep giving the same answers but ETIENNE ST. CLAIR FOREVER.
Best 2014 debut you read?
I didn't read many debuts at ALL this year. But out of the ones I did read, I think The Truth About Alice by Jennifer Mathieu was probably the best.
Best worldbuilding/most vivid setting that you read this year?
Either Anna and the French Kiss or Masquerade probably.
Book that put a smile on your face/was the most fun to read?
It has to be The Wobbit. It cracked me up so many times. The Harvard Lampoon actually write the funniest books. I'd say The Hunger Pains is my favourite though. I've read it three or four times and I still laugh super hard.
A book tht made you cry or nearly cry in 2014?
I'm not really much of a book crier. Though I think my eyes welled up during If I Stay. The bit with Adam at the hospital…
Hidden gem of the year?
Flirting in Italian by Lauren Henderson. I've mentioned it before but nobody ever seems to have heard of it. Really good if you're looking for something cute and fluffy and set in the wonderful Italiaaaaa.
Book that crushed your soul?
I was so excited to read Where She Went after If I Stay but my heart was broken after I found out what had happened between books 1 and 2. I couldn't go on. Who knows? Maybe it got really good?
Most unique book read in 2014?
Maybe The Minnow by Dianna Sweeney?
Book that made you the most mad (doesn't necessarily mean you didn't like it)?
I can't think of anything that made me as mad as such but I really didn't like Gameboard of the Gods by Richelle Mead.
Favourite new book blog that you discovered in 2014?
I can not give a single answer to that. However, the Aussie YA Readers/Bloggers group introduced me to so many more people and I'm so grateful to them in that regards.
Favourite review you wrote in 2014?
I seem to remember enjoying writing my reviews of #16ThingsIThoughtWereTrue by Janet Gurtler and The Truth About Alice.
Best discussion/non-review post you had on your blog?
I always take pride in my Trendy Thursdays posts. Which I need to pick up again. I especially like ones I did of Rebel Belle, Masquerade, Deep Blue and Eleanor and Park.
Best event you participated in?
I only participated in the PTA Live: The Fault in Our Stars special showing. It was really great though.
Best moment of bookish/blogging life in 2014?
 I asked for and received my first print arc this year and I was really proud of myself for actually working up the guts to write an email to a publisher. I know, sounds dumb and a lot of bloggers do all the time but I was pretty nervous. I was so excited when I found out that they had approved me!
Most popular post on your blog?
Apart from my homepage, contact me and a giveaway post, my most popular post was when I posted about the release of the City of Bones movie. I know it wasn't a super popular movie with a lot of bloggers but I really liked it. In fact I watched half the movie again on DVD last night.
Post you wished got a little more love?
I'm still suprised anyone reads anything I write, so I'm not that concerned when I have only a few viewers – especially since I haven't been totally reliable as a blogger. I would have loved for more people to have read my Struck by Jennifer Bosworth review – I tried something new but I only had 1 view.
Best bookish discover?
Probably Harlequin Australia's (publisher) website. At least it might have been 2014 when I discovered it. They have amazing sales all the time. I have bought at least 12 books from them.
Did you complete any  bookish challenges you set yourself at the beginning of the year?
Maybe? Probably? I set so many that I lost track of them all. I completed my Goodreads challenge, even if I did change it a bit towards the end…
One book you didn't get to in 2014 but will be your number one priority in 2015?
Splintered by A. G. Howard. I've had a copy for more than a year now. And now I have the sequel.
Book you are most anticipating in 2015 (non-debut)?
The first book in The Dark Arifices series by Cassandra Clare. I'm going to need an entire shelf just for her books soon!
Debut you are most anticipating?
A Wicked Thing by Rhiannon Thomas.
A series ending/sequel you are most anticipating in 2015?
Winter by Marissa Meyer!
One thing you hope to accomplish or do in your 2015 reading/blogging life?
Not get totally overwhelmed sounds pretty good.
A 2015 release you have already read and recommend to everyone?
I can't think of any off the top of my head – sorry! I don't know if I have read any.