The Iron Bells by Jeanette Battista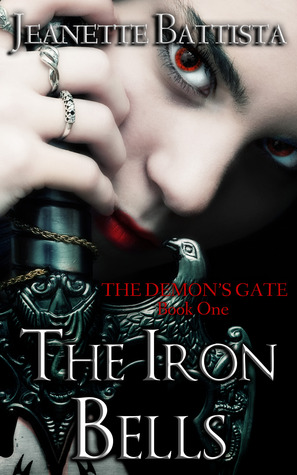 Publication date: June 10th 2013
Publisher: Foreword Literary
Number of pages: 191
Series: The Demon's Gate (1#)
Genre: YA Paranormal/Dystopia
Source: Received in exchange for review. This is my honest opinion.
Goodreads synopsis:
The year is 64 A.D. — though now A.D. stands for Anno Daemonii.
Demons have crossed a gate into our world, taking the reins of power from humanity. A new Inquisition has begun, determined to root out any who stand against the new world order. The holy sites on earth have been destroyed — Jerasulem first, then the Vatican, then Mecca — and what resistance remains is ruthlessly crushed. Amaranth is a fighter in the resistance cell based in London. Dham is a Ringer, one of the few people left able to ring the remaining sets of blessed hand bells
that have power over demons. When Amaranth discovers that her best friend has been possessed by a demon and is going to be used in the Resistance's final, desperate mission, she asks Dham for his help in saving her friend. With the Inquisition closing in and betrayal threatening from inside the Resistance itself, Amaranth, Dham, and the demon — along with Catriona, a new, highly-skilled, highly-blonde bell-ringer — decide to head to Rome and the ruins of Vatican City,
hoping to find a way to stem the tide of demonic possessions and close the gate.
The Iron Bells is the first in a New Adult trilogy.
Review:
The Iron Bells is a Buffy the Vampire Slayer-esque read set in the wonderful city of London. London is great. I have a slight obsession with all things English, so me and The Iron Bells were immediately off to an okay start. But only in that sense.
Honestly, I was a little bored in the beginning. I couldn't get into it and wasn't impressed with the characters (to be honest, I'm still not). But it did pick up a lot towards the end and I started enjoying the second half, which really bumped up the rating.
But back to the Buffy-esque thing. The Iron Bells was very much like Buffy. It's not really a bad thing for me because I love Buffy the Vampire Slayer but I couldn't help picking up all the similarities. I mean we have a main character who loves her witty quips, isn't particularly bright who fights demons (Amaranth), as well as a friend who needs saving (Patrick), a tormented love interest (Dham), a saracastic demon (Trick) and a demon fighting leader who acts as her father figure (Ryland). So I wasn't very impressed in that sense.
But it was an easy and enjoyable read. Could be worse, right?
Another problem was the amount of grammatical errors. I had a review copy, but I didn't see any disclaimers saying to ignore them, so I must assume that this was a finished copy. Really there shouldn't have been any.
This is a minor issue but at one point Amaranth ended up in the Thames. Um. You should NOT be swimming in there, by accident or not. Trust me, you could get seriously sick. It was a little overdone on the English side of things.
Even though it picked up a little at the end, I probably wouldn't read a sequel. It was pretty much just a not very good redo of Buffy the Vampire Slayer set in London.
2.5/5 comets
Minor indent – could have been a bigger hit.
Add to Goodreads
Author bio:
Jeanette Battista graduated with an English degree with a concentration in medieval literature which explains her possibly unhealthy fixation on edged weapons and cathedral architecture. She spent a summer in England and Scotland studying the historical King Arthur, which did nothing to curb her obsession. To satisfy her adrenaline cravings—since sword fighting is not widely accepted in these modern times—she rode a motorcycle at ridiculously high speeds, got some tattoos, and took kickboxing and boxing classes. She gave up the bike when her daughter came along, although she still gets pummeled at the gym on a regular basis.
When she's not writing or working, Jeanette spends time with family, hikes, reads, makes decadent brownies, buys killer boots, and plays Pocket Frogs. She wishes there were more hours in the day so she could actually do more of these things. She lives with her daughter and their ancient, ill-tempered cat in North Carolina