Nil by Lynne Matson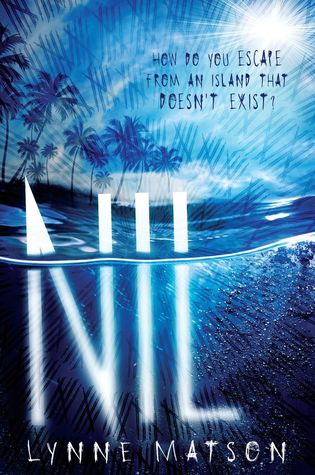 Publication date: March 4th 2014
Publisher: Henry Holt
Number of pages: 384
Series: Nil (1#)
Genre: YA Science Fiction/Dystopia
Source: Borrowed. This is my honest opinion.
Goodreads synopsis:
On the mysterious island of Nil, the rules are set. You have one year. Exactly 365 days–to escape, or you die.
Seventeen-year-old Charley doesn't know the rules. She doesn't even know where she is. The last thing she remembers is blacking out, and when she wakes up, she's lying naked in an empty rock field.
Lost and alone, Charley finds no sign of other people until she meets Thad, the gorgeous leader of a clan of teenage refugees. Soon Charley learns that leaving the island is harder than she thought . . . and so is falling in love. With Thad's time running out, Charley realizes that to save their future, Charley must first save him. And on an island rife with dangers, their greatest threat is time.
Review:
My Nil Journey
So sit down young fellows and let me tell you a tale of a book. But not just any book. This is a tale of a book about an island that doesn't exist.
Let me explain how this is going to work: I'll go through my "reading journey" and finish off with a final review.
So lets begin.
——————-
Before reading Nil:
WOOHOO! So pumped for this! This would have been on My Most Anicipated Reads for 2014 if I had known about it when I made this list. Have you read the synopsis? It sounds ahmayzing. You know what/who else is amazing? Lynne Matson! She is so much fun to talk to on Twitter. Plus I am part of her #NILtribe.
Chapter 2:
First Impression: Ok. Nothing's really happened. I don't know if it's because it's too early to tell or what.
Page 50:
Nothing spectacular. Ok. At this moment in time I would probably give it two stars. Come on Nil, show me whatcha got. Please. I'm a little bored. Ew, insta-insta-love. Yep, that instant.
Page 100:
You know what this reminds me of? The Maze Runner trilogy by James Dashner. Like, a lot. I guess it's gotten a little better but that's all. Pleaseplease don't disappoint me. But as for the story, it's definitely not what I expected. It's ok so far overall.
Page 200:
Really, really not liking the romance. The book is still in the ok/mediocre range. It really could be better. This is probably going to sound strange but the story is just too light. It doesn't much the content. Or at least what the content should be like.
Page 300:
Yay. Nil has just gotten "good" I'm curious as to what's going to happen, but I'm pretty sure it isn't going to surprise me.
Page 350:
Ok, whoa, whoa, whoa. Just gotten good. Did NOT expect that. Totally just ate my words. Yum yum. That could not have happened – there are only twenty four pages left. Nuh uh.
Finished!
Oh. Ok. Ending me no likey.
——————-
So here is my proper review:
I really have to do more of these "journey" reviews. They're fun. I think I may have stumbled onto something.
Honestly, I was so let down by this book. I almost bought it but couldn't wait any longer and borrowed it from the library. So glad I did because it just fell flat.
The romance was icky. It was pretty much along the lines of:
"G'day mate I'm Charley. You are the first person I see and I'm going to fall in love with you."
"Aw mate look at the stems on that chick! I think I may have just fallen in love with her."
Alright, that was terrbily Australianised and very exaggerated. It wasn't that bad. Just very unbelievable. They just fell straight in love without getting to know eachother.
The worst part was and wasn't the actual story. It was in the way that I felt that the tone was too light for the story. I wish there had been more involvement from Nil herself because they were the only good bits. She should have been more evil and island life should have been harder. I think it had great potential though. And that's the way that it wasn't the worst part because thinking back, the synopsis promised what the story gave.
I really like this cover, though. The blues are pretty and the tallying in the background is cool.
It was a little boring but got really good from about page 300-360 and I can't let that not affect my rating. No matter how much I enjoyed that part, it won't raise my rating too much.
I feel like my review is mostly negative but it wasn't that bad. It was still enjoyable.
2.5/5 comets
Minor indent. Could have been a bigger hit.
Add to Goodreads
Author bio:
I LOVE books. And I write them too.:)
I write the sort of books I love to read…stories that ask "what if" and are full of feels. NIL is my first novel.
I also have a *slight* iTunes addiction, am pretty boss with a Nerf gun, and hate stopping for gas. Cookies are my kryptonite, especially thin mints.