Legend by Marie Lu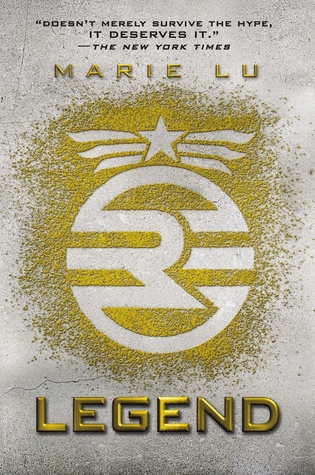 Publication date: November 29th 2011
Publisher: Speak
Number of pages: 305
Series: Legend (1#)
Genre: YA Dystopian
Source: Gifted. This is my honest opinion.
Goodreads synopsis:
From different worlds, June and Day have no reason to cross paths…
Until June's brother is murdered, and Day becomes the prime suspect.
In a shocking turn of events, the two uncover what has really brought them together, and the sinister lengths to which their country will go to keep its secrets.
Review:
What a Legend! Corny, I know.
But really, it was so. Good.
To be honest, the premise of the book didn't grab me. It didn't sound particularly unique and I have to say that that is the sort of thing that attracts me to a book. As much as I love good ol' dystopians, Legend did sound a bit like your typical cookie cutter dystopians to me. Military warfare between hightech guys and the outsiders with a bit of plague thrown in. Where have I heard that before…?
But there was nothing NOT to love about Legend. I thought the story was pulled off really well. The world was vivid, the characters were great and I was never bored. Not once. In fact I couldn't actually stop reading it was that good. I also have a tendency to skim when I read but I'm pretty I didn't at all in Legend.
After finishing Legend, I'm pretty sure it's the hardest it's been so far to not start the sequel, Prodigy. But it was late at night and I was crazy tired, so I just had to refrain. It was just so good! There were twists everywhere and it was thrilling and exciting. At one point I actually gasped out loud. I never thought the author would make one particular event happen.
June was one great character. Day was another great character. Metias was a great character. Everyone were great characters. There were backstories for most of the characters and they were so well crafted, I just loved them all!
I absolutely must recommend the hardback edition. I have the boxset which comes with the trilogy and a little novella booklet. The texture of the dustjacket is so cool, a few words are printed in colour and Day's point of view is written in gold! So pretty.
Would I recommend this? Would I recommend this? Pfffffffft I think you already know my answer. YES A THOUSAND TIMES OVER!
5/5 comets
Bye, bye Earth. Out of this world!
Add to Goodreads
Goodreads author bio:
I write young adult novels, and have a special love for dystopian books. Ironically, I was born in 1984. Before becoming a full-time writer, I was an Art Director at a video game company. Now I shuffle around at home and talk to myself a lot. 🙂
I graduated from the University of Southern California in '06 and currently live in LA, where I spend my time stuck on the freeways.