Fever by Lauren DeStefano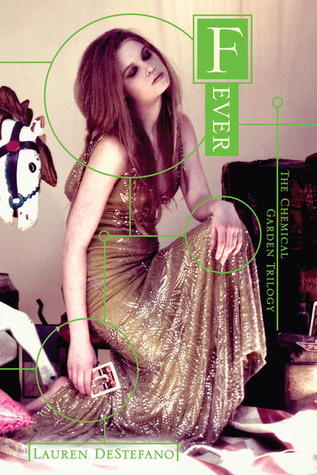 Publication date: February 21st 2012
Publisher: Simon & Schuster Children's Publishing
Number of pages: 341
Series: The Chemical Garden (2#)
Genre: YA Dystopian
Source: Purchased. This is my honest opinion.
Goodreads synopsis:
Rhine and Gabriel have escaped the mansion, but danger is never far behind.
Running away brings Rhine and Gabriel right into a trap, in the form of a twisted carnival whose ringmistress keeps watch over a menagerie of girls. Just as Rhine uncovers what plans await her, her fortune turns again. With Gabriel at her side, Rhine travels through an environment as grim as the one she left a year ago – surroundings that mirror her own feelings of fear and hopelessness.
The two are determined to get to Manhattan, to relative safety with Rhine's twin brother, Rowan. But the road there is long and perilous – and in a world where young women only live to age twenty and young men die at twenty-five, time is precious. Worse still, they can't seem to elude Rhine's father-in-law, Vaughn, who is determined to bring Rhine back to the mansion…by any means necessary.
In the sequel to Lauren DeStefano's harrowing Wither, Rhine must decide if freedom is worth the price – now that she has more to lose than ever.
Review:
The cover is definitely my favourite thing about this book. Not really a good thing as such. But cover artist, if you are reading this, I tip my hat off to you. In fact, you can have my hat.
But seriously, the colours. And all those toys are so creepy. I wish my hair would stay that straight.
But alas, I must move on to talking about the actual book.
Rhine, oh Rhine, why must I ask why in every review of books in this series? Why Gabriel? Linden loved you. I love Linden but he's fictional *single but dramatic tear roll as down face* so I can't have him. But you can. So take him! I don't know, marry Cecily off to Gabriel or something.
I found the first half off this book to be boring. I mean, any time in time in this series without Linden is bound to be. But aside from the obvious, I wasn't the actual story's number 1# fan. I had been waiting over a year to read this book. So Rhine and Gabriel get taken in by this prostitute camp for about half the book. Yeah, that must be why I didn't like the first half of the book, come to think of it. I thought it was boring and disgusting to be quite frank. And yet again Rhine makes bad decisions. Surprise, surprise.
As much as I love Linden, I do like Gabriel. But he seems to be a perfect book guy cutout with zero flaws. We don't even see that much of him, he always seems to be knocked out or very sick or Rhine seems to be knocked out or very sick. They didn't really have time to bond. Usually the second book in a trilogy with a love triangle at least puts sways me a little towards the side of the main guy of the book. But nope.
Oh my goodness. The last third of this book. I could not turn pages fast enough. I am so so so so excited for Sever. I am nervous and excited. I need to know what happens. This is going to be, brilliant.
3.5/5 comets
Looks like the start of an apocalypse! Nearly there!
Add to Goodreads
Author bio:
Lauren DeStefano (pronounced: de STEFF ano) is a lawn gnome enthusiast and New York Times bestselling author of some books, which you can find listed below this bio. For the first six years of her life, she thought she was a mermaid and still has her suspicions. When she isn't writing, she is often composing tweets that make as little sense as possible. They can be found here: https://twitter.com/LaurenDeStefano