Secret by Brigid Kemmerer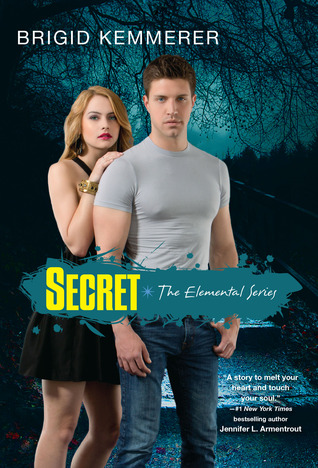 Publication date: January 1st 2014
Publisher: Kensington Teen
Number of pages 328
Series: N/A
Genre: YA Paranormal
Source: Received in exchange for review (thanks!). This is my honest opinion.
Goodreads synopsis:
EARTH. FIRE. AIR. WATER.
Nick Merrick is stretched to breaking point. He's trying to keep his grades sky-high or he won't get in to college. He's trying to keep his brother's business afloat or the Merricks will be out on the street. He's trying to keep the secret of where he's going in the evenings from his twin brother Gabriel – or he fears he'll lose his family. And he's trying to keep his mind off the hot, self-assured dancer who is his 'girlfriend's' partner.
And then Quinn takes to hanging around his sworn enemy, and an Elemental Guide is counting the hours until he can try again to kill the Merrick brothers. Storms are brewing. On all sides.
SECRETS IN THE WIND. DANGER IN THE AIR.
Review:
Really it's no wonder why they decided to call this book Secret. All the secrets people, the secrets!
Reader, let me introduce you to my favourite Elemental book so far. Did I expect this? No. That was my honest answer. Of course I was super excited when I received a review copy but I didn't think it could live up to Storm (the first book).
Even now the book is finished, my chest is swelled up from how cute the romance is this book was. Seriously. I'm actually THAT happy for the characters. It was just so adorable and lovely and nice and just plain cute.
I never realised how much I like Quinn. That girl is cool. So is Nick. Nick and Quinn were the main characters of Secret and each had some issues to deal with that many teenagers around the world have to deal with: Quinn had a dangerous and abusive home life and Nick has to come out as gay to his brothers. I thought Brigid Kemmerer handled them very well and even put the cool elemental spin on it.
I was absolutely shocked when I found out Quinn's new relationship. S-H-O-C-K-E-D. I never thought…but it worked…and I actually support it…
I already knew about Nick's relationship because of a review I saw (it's probably in the synopsis but everyone knows I never read them) but all the same it was still cute.
The best thing about this series is that all the characters feel so real. I think I'd recognise each and every one of them for a mile away and if it was Michael I'd obviously run up and hug him. Gabriel too.
But speaking of Michael, I'm so excited for the next book! It's about time we got his side of the story. I have been waiting too long. But all the suspense will probably lead up to it being fantastic. Logic.
If you haven't read this series yet, I really don't know why not. It's just so great on so many levels.
5/5 comets
Bye, bye Earth! Out of this world!
Add to Goodreads
Author bio:
Brigid Kemmerer finds the time to write somewhere between caring for her family and working at her day job, but sometimes she ends up mothering her coworkers and managing her family. Storm: The Elemental Series is her first novel.
I love friends on Goodreads, so don't hesitate to hit me up with a friend request! I don't review a lot of books out of respect for other authors, but I will have discussions about books, and I love hearing what other people have to say. That said, please note that I ignore all random book recommendations and event invites. Nothing personal, but that system has turned into a spam generator, and it's impossible to suss out what's real and what's being sent to everyone and their brother. If you really think I should read a book (and I love genuine recommendations), message me! I'd love to hear from you!
Last thing: As a reader, I love Goodreads, and I will do my best to preserve the integrity of this site. As an author, I welcome all reviews, whether positive or negative. I will NEVER criticize nor contradict a reviewer on Goodreads or on any other site, nor will I enlist the help of friends or colleagues to do so.