Kiss of Deception by Mary E. Pearson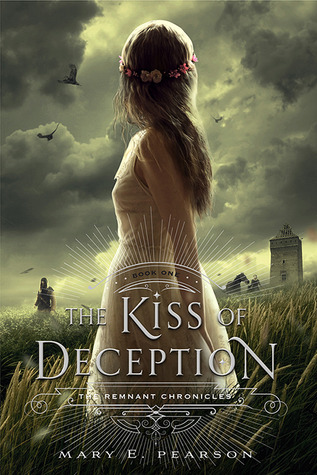 Publication date: July 8th 2014
Publisher: Henry Holt
Number of pages 492
Series: The Remnant Chronicles (1#)
Genre: YA Fantasy
Source: Received in exchange for review. This is my honest opinion.
Goodreads synopsis:
 In this timeless new trilogy about love and sacrifice, a princess must find her place in a reborn world.
In a society steeped in tradition, Princess Lia's life follows a preordained course. As First Daughter, she is expected to have the revered gift of sight—but she doesn't—and she knows her parents are perpetrating a sham when they arrange her marriage to secure an alliance with a neighboring kingdom—to a prince she has never met.
On the morning of her wedding, Lia flees to a distant village. She settles into a new life, hopeful when two mysterious and handsome strangers arrive—and unaware that one is the jilted prince and the other an assassin sent to kill her. Deception abounds, and Lia finds herself on the brink of unlocking perilous secrets—even as she finds herself falling in love.
Review:
The Kiss of Deception? More like book of deception.
I was deceived in the way that I really thought that it was going to be better than it was. I mean, my Goodreads friends had given this book really good ratings and yet here I am giving it two stars. Plus didn't the author, Mary E. Pearson, write that fairly popular book, The Adoration of Jenna Fox?
But alas, I never really got into the story. I didn't care for the main character, Lia, and I lost track of all the characters. There were just too many. It was just kind of "meh" overall.
One thing I did like, however, was the writing. It was really pretty. I'm not usually one for quoting but I am actually going to quote the first two sentences for you:
"Today was the day a thousand dreams would die and a single dream would be born. The wind knew."
I also liked the excerpts from "The Last Testaments of Gaudrel" (made up) at the beginning of each chapter, which were also prettily written.
One of my first thoughts was that it reminded me of Maria V. Snyder's "Healer" series. I think it was a combination of the writing, woods, magic and the two lead guy characters. But unlike in the Healer books, I was really bored in Kiss of Deception. I didn't really find the concept to be unique.
I liked from about 70% to 90% of the book. Come to think of it, I guess that means I only liked 20% of the book. The rest was still ok, but just a little boring.
Personally I wouldn't recommend this book, just because I didn't particularly enjoy it or even have many thoughts about it. I don't think I would read a sequel, maybe just admire it's cover if it's pretty like this ones.
2/5 comets
Just scraped past. A couple of Band-Aids would have fixed it up.
Add to Goodreads