Timepiece by Myra McEntire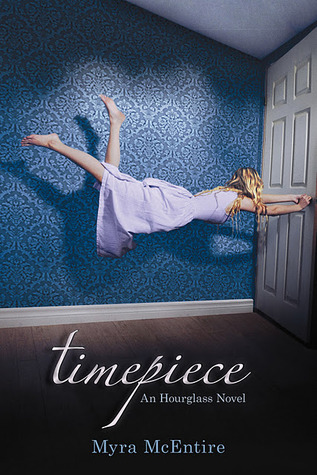 Publication date: June 12th 2012
Publisher: EgmontUSA
Number of pages: 325
Series: Hourglass (2#)
Genre: YA Sci-fi/Time-travel
Source: Borrowed. This is my honest opinion.
 Goodreads synopsis:
A threat from the past could destroy the future. And the clock is ticking…
Kaleb Ballard was never supposed to be able to see ripples – cracks in time. Are his powers expanding, or is something very wrong? Before he can find out, Jonathan landers, the man who tried to murder is father, reappears. Why is he back, and what, or whom, does he want?
In the wake of Landers' return, the Hourglass organization is given an ultimatum. Either they find Jack and the research he's stolen on the people who might carry the time gene, or time will be altered – with devastating results for the people Kaleb loves most.
Now Kaleb, Emerson, Michael, and the other Hourglass recruits have no choice but to use their unusual powers to find Landers. But where do they even start? And when? And even if they succeed, it may not be enough…
 Review:
What can I say apart from KALEB! If you have read my review of Hourglass, you will know that Kaleb is my favourite character in this series. So I was pretty much ecstatic to find he would be narrating this story.
But I was a little disappointed that there was no love triangle (well, not really) between Emerson, Kaleb and Michael because poor old Kaleb didn't stand a chace. But then he meets Lily and they hit it off, so I suppose that's ok. Sometimes everyone needs a happy ending (ok, including Michael).
I was definitely really looking forward to Timepiece. I read another book between Timepiece and Hourglass and I could barely contain myself before starting Timepiece.
My major critique is that I wish there was more time-travel. They don't actually seem to really travel in time (except for one little bit in this book) and that is really the reason I was attracted to this series. It definitely made up for it in other ways but I feel as though this series could be near perfect, if not perfect, with a little time-travel thrown in.
The thing I found most curious was that when someone had to tell someone else that they were a time-traveller, no one cared! The people who were told were just like yeah whatever, and the other time-travellers who were supposed to be keeping it a secret didn't seem to mind much. This isn't a critique, I just thought it was interesting because usually in most books the paranormal person throws a hissy fit when someone tells someone else about their secret.
I love the covers. I know of a few people who aren't as keen, but I really like them and think they are quite clever. I mean, each book ties in with the title, but they are also very attention-grabbbing. If you are in a book store, do you go for the run-of-the-mill girl in a pretty dress, or do you go for the girl in the dress in a gravity defying position? Me, the latter.
I love all the characters, and really they are what make these books for me. I love Emerson, Michael (just not as much as Kaleb), Kaleb, Lily, Kaleb, Dune, Kaleb, Nate, Liam and Kaleb! They all have their quirks and I like the way that the books from the different perspectives give you, well, different perspectives. I'm not a hundred percent sure on my thoughts on Lily, but I think I like her, even if she isn't Emerson.
To all book lovers looking for a YA sci-fi read that isn't very hardcore, I think I've found you a book.
4/5 comets!
A meteor shower. A great show.
Add to Goodreads