Hourglass by Myra McEntire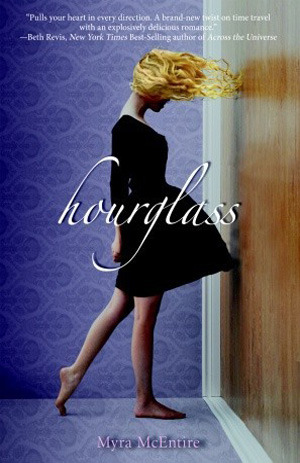 Pubication date: June 14th 2011
Publisher: Egmont USA
Number of pages: 390
Series: Hourglass (1#)
Genre: YA Sci-fi/Time-travel
 Source: Borrowed. This is my honest opinion.
 Goodreads synopsis:
One hour to rewrite the past . . .

For seventeen-year-old Emerson Cole, life is about seeing what isn't there: swooning Southern Belles; soldiers long forgotten; a haunting jazz trio that vanishes in an instant. Plagued by phantoms since her parents' death, she just wants the apparitions to stop so she can be normal. She's tried everything, but the visions keep coming back.
So when her well-meaning brother brings in a consultant from a secretive organization called the Hourglass, Emerson's willing to try one last cure. But meeting Michael Weaver may not only change her future, it may also change her past.
Who is this dark, mysterious, sympathetic guy, barely older than Emerson herself, who seems to believe every crazy word she says? Why does an electric charge seem to run through the room whenever he's around? And why is he so insistent that he needs her help to prevent a death that never should've happened?
 Review:
Please, if you can time-travel, can you and tell me during the first half of this book that I really don't want to DNF it? Because I came dangerously close.
Why, you ask? It looks like you really enjoyed it – I mean you gave it four stars! Well my curious reader, it's because of the pacing. I'd say about the first half of the book had very slow pacing and I was getting bored. I was reading a book about time-travel and the main character really wasn't even close to time-travelling yet.
My other intial problem, was with the main character Emerson. Sure, I could swear she was me in book form, but that's a worry, considering how annoyed I got with her. I thought her personality was endearing at first, but then it just got plain annoying.
Luckily as the book went on, it got a lot better. Emerson's personality stayed endearing and the pacing picked up. I'd say the real turning point is when she meets Kaleb, because he was more interesting than Michael. Yep, at that point the story definitely got engrossing.
Speaking of Kaleb, I never would have picked a love triangle for this book if I had just read the beginning. I mean, Michael seemed great and I thought the story would be about Michael defying the rules and falling in love with Emerson. But nope, Kaleb came on to the scene and I suddenly became all "forget Michael, marry Kaleb!". But that's not entirely true, actually. As much as I'd love Kaleb and Emerson to be together, Michael and Emerson are meant to be together.
The other thing I liked, was the take on time-travellers. It was definitely an interesting concept, particularly the part with the "rips". If you think you have read all the time-travel books already, please read Hourglass.
I really loved the second half of the book. I sat down to read about fifty and ended up reading about 200. Yeah, it was that good.
I had been really wanting to read this trilogy for a while and will definitely be continuing on with it. I have a fairly high bar set for the sequel.
 4/5 comets!
A meteor shower. A great show.
Add to Goodreads