Eleanor and Park by Rainbow Rowell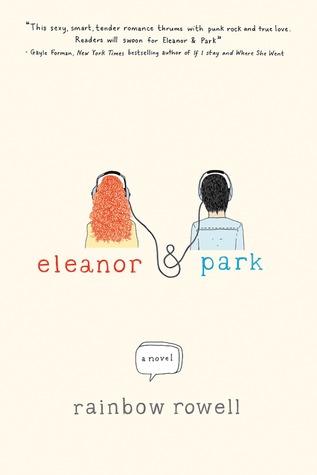 Publication date: April 12th 2012
Publisher: St. Martin's Griffin
Number of pages: 320
Series: N/A
Genre: YA Contemporary
Source: Borrowed, although I wish I'd purchased. This is my honest opinion.
 Goodreads synopsis:
Two misfits.
One extraordinary love.

Eleanor… Red hair, wrong clothes. Standing behind him until he turns his head. Lying beside him until he wakes up. Making everyone else seem drabber and flatter and never good enough…Eleanor.
Park… He knows she'll love a song before he plays it for her. He laughs at her jokes before she ever gets to the punch line. There's a place on his chest, just below his throat, that makes her want to keep promises…Park.
Set over the course of one school year, this is the story of two star-crossed sixteen-year-olds—smart enough to know that first love almost never lasts, but brave and desperate enough to try.
 Review:
The hype, the hype, the cover, the hype. If you follow many blogs or watch BookTube, you will have seen this book. Probably a minimum of ten times. And no doubt you will have seen Rainbow Rowell's other book, Fangirl, just as many times.
Honestly, I was a little skeptical. I requested Eleanor and Park because I wanted to know what I was missing out on. Quite a bit apparently. I hadn't read the blurb prior to requesting and when I eventually read it, I was just kind of like "oh." To me it really didn't sound exciting.
To be fair to my early impressions, going by the blurb, there wasn't really that much of a plot. But that's the weird thing. I was more engrossed in this book than I have been with many others. Sure, like 90% of it was just interaction between Eleanor and Park but it was really, really enjoyable.
The writing in Eleanor and Park was so, so unique. It kind of had this quirky, sarcastic tone and just all these other little things that really brought the book together.
Then you had Eleanor and Park. So different, yet so right. Never in my life can I recall coming across a character like Eleanor. She was mean, rude, sarcastic, frustrating, likeable, lovable, quirky and unique. All at once.
I couldn't get this book out of my head when I was and wasn't reading it. I couldn't wait to keep reading. In fact, the ending got so good that I didn't even realise I was nearly finished. I didn't really want it to end.
Not to mention the setting and time era. So cool.
I absolutely loved this book and will probably be forcing it upon people to read it. Then I will grab a copy of one of her next books.
 5/5 comets!
Bye, bye Earth! out of this world.
Add to Goodreads
 Goodreads author bio:
Rainbow Rowell writes books. Sometimes she writes about adults (ATTACHMENTS and LANDLINE). Sometimes she writes about teenagers (ELEANOR & PARK and FANGIRL). But she always writes about people who talk a lot. And people who feel like they're screwing up. And people who fall in love.
When she's not writing, Rainbow is reading comic books, planning Disney World trips and arguing about things that don't really matter in the big scheme of things.
She lives in Nebraska with her husband and two sons.